Helena Modjeska (or rather: Modrzejewska) became a theater legend during her lifetime. An outstanding actress and Polish patriot, she was widely esteemed and her talent admired.
by Piotr Bejrowski
Born on 12 October 1840 in Krakow, Jadwiga Helena Mise was the illegitimate daughter of the wealthy widow Józefa Benda. From an early age, she wanted to become an actress and joined traveling troupes relatively early, adopting the pseudonym "Modrzejewska" at the beginning of her stage career. She went on to perform on provincial stages in Bochnia, Stanisławów, Przemyśl, Brzeżany and Nowy Sącz.
Her talent was noticed by Gustaw Zimajer, an actor and director of several minor Galician theaters, who became her patron and helped to improve her acting skills. Modrzejewska herself diligently and persistently practiced voice and diction. Eventually, the two actors grew closer, resulting in the birth of Rudolf Modrzejewski in 1861. He would grow up to become a famous engineer, builder of railroads and bridges in Poland and the United States, and a pioneer in the construction of suspension bridges. The relationship eventually ended for unknown reasons, and Helena married the wealthy landowner, Karol Chłapowski. Contrary to the custom common at the time, she did not give up her profession.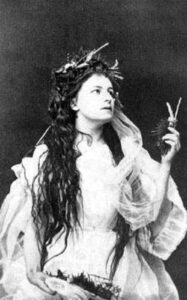 Reviews of Modrzejewska's first performances were far from enthusiastic. However, this did not discourage her – on the contrary, her passion and persistence soon took her to the top. In 1862, she began performing in Lwów, thanks to which she attracted the attention of critics. At that time, she was not being offered leading roles, so she decided to seek roles elsewhere. In the mid-1860s, she began performing in Krakow, and then in Warsaw. It was there that she achieved the status of a real star – at an exhibition in Zachęta, her portrait was displayed as Ophelia from "Hamlet", and photographs of her were sold in shops. For patriotic reasons, she did not want to play on the Russian and German stages. Nevertheless, although she had enough money to live well on, it was not enough for her.
In 1876 she decided to take a bold step – she went to North America with a group of Poles intending to form a colony. Among them was the famous writer and later winner of the Nobel Prize in Literature, Henryk Sienkiewicz, who went there as a correspondent for "Gazeta Polska". However, the construction and development of a farm in Anaheim, California was unsuccessful, and the colonists returned to their homes. Modrzejewska, who had studied English diligently, decided to stay overseas. Soon she began performing on American and English stages, successfully taking on Shakespearean roles, which were her specialty. She adopted the pseudonym "Modjeska", under which she is known in the Anglo-Saxon world to this day, in order to ease pronunciation for the local audience.
She gained immense popularity, which she used many times to publicize the Polish cause abroad. When traveling by rail across America, she most often chose a wagon marked "Poland".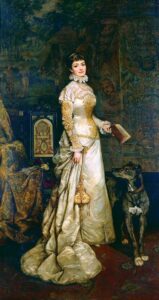 America, however, was only a stopover for her on the way to London. Modrzejewska's real dream was to play the greatest roles of Shakespeare's plays in his homeland and she would accomplish this goal as well.
As a frequenter of salons, she attracted the attention of society, arousing admiration with her recitation skills. One often repeated anecdote discusses the delight of an American audience who were unaware that the actress had simply recited the Latin alphabet (with a Polish pronunciation) and the multiplication table. Modrzejewska herself recalled how one London audience was deeply moved when she recited a poem by Kornel Ujejski in Polish: "You can imagine how I was captivated by the delicacy of the heart of those old English women who, not understanding a word, were crying!" – she wrote in a letter to a friend.
During the World's Fair Auxiliary Congress in Chicago in 1893, she was outspoken in calling for the improvement of the situation of Polish women under the Russian and Prussian partitions. The echoes of her speech reached the ears of the tsar, who in a special document forbade her from entering Russian territory. Thereafter, she was no longer able to appear on the stages of Warsaw, which was then under tsarist rule. The actress, however, did not forget about Polish audiences, instead she simply performed on the stages of Krakow, Poznań and Lwów.
She was not particularly interested in financial gain; she used her wealth for charity, patriotic purposes, and sometimes simply supporting her relatives. When she heard the young Ignacy Paderewski play, she also financed his education in Vienna. She was godmother of the famous American actress Ethel Barrymore. At the turn of the 19th and 20th centuries, Modrzejewska became the most popular actress in the world – people dressed like her, wore hats a la Modjeska, and restaurant dishes were named after her. To this day, you can find numerous items signed with her name – cards, tableware, perfumes, stationery. A mountain and a waterfall in the United States were also named in her honor.
Helena Modrzejewska died in California on 8 April 1909 after a career lasting almost half a century. Funeral ceremonies took place in the United States, but in accordance with her will, she was buried in the Rakowicki Cemetery in her hometown of Krakow.
Author: Piotr Bejrowski
Translation: Alicja Rose & Jessica Sirotin